You have heard all the good things about using a standing desk and now you are wondering if it can possibly help you to lose some weight as well. 
You lose weight with a standing desk by having a balanced diet plan and incorporating some practical ways related to your standing desk's functionality that I am going to share in this posting. What you are about to read can be summed up in that one sentence.
Whether you are interested in a regular full size standing desk or a standing desk converter, which sits on top of your existing desk, rest assured that both of them can help you to lose some weight. 🙂
But exactly how? Aside from having a regular healthy eating plan, which is by the way the most important factor, is standing for a few hours enough? No, unfortunately it is not! Standing may help you to burn more calories than sitting down but it will not be enough to make you slimmer.
The main benefit that you will experience by using a standing desk is that you are more likely to move your body and do more activities when you stand. Hence, avoiding a sedentary working lifestyle that does the exact opposite. 
Don't believe what I just said? Check out these real reviews how a standing desk has made its owners more active.


I am pretty sure you have had some general ideas about what a healthy diet is so I am just going to talk about it briefly and focus more on the practical ideas.
1. Healthy Diet Plan
---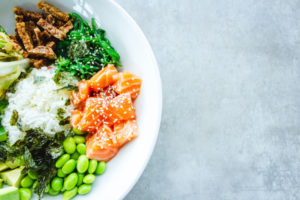 I would love to address more fully about the importance of a healthy diet but that will make this posting very long. So allow me to just summarize for you what the CDC (Centers for Disease Control and Prevention) has to say about it. 
According to CDC, you need to always strive to include the following type of food in your diet:
Fruits, vegetables, whole grains, and fat-free or low-fat mild and milk products

Lean meats, poultry, fish, beans, eggs, and nuts

Low in saturated fats, trans fats, cholesterol, salt (sodium), and added sugars
Rather than focusing on what you cannot eat, which sometimes can make you feel depressed :), you should think about all other good foods you can eat that will make your body healthier. 
If you can stay disciplined with this eating plan, you are off to a great start to lose some weight. Otherwise, the next few tips will have little to no impact to reach your goal.
OK now it is time to share some practical ways you can do with your standing desk to help you lose weight. 
2. Set Up Automatic Reminder
---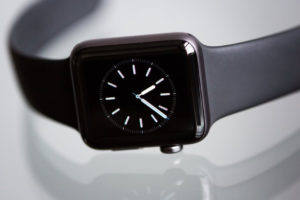 The idea is simple. You need to train your body to alternate between sitting and standing. If you have never bought a standing desk before, you may not know when and how often you need to stand. You could also easily lose track of time especially when you have a heavy workload. 
To address that problem you need to set up an automatic reminder. Thankfully some electric standing desks, such as the IMovr Lander and Flexispot Height Adjustable Desk have a built-in reminder feature. This a nice feature that you should take advantage of from these high-end models.
If a full size standing desk is not an option for you, you can set a reminder in different ways. So far I have not seen a standing desk converter with a built-in reminder but that does not mean there will not be any in the near future.
My suggestion is that you use other means, such as your smartphone, smartwatch, fitness tracker, computer, or tablet to notify you when it is time to stand. You should also set up your reminder with an interval so that you can start building a healthy habit. 
3. Take a Short Walk
---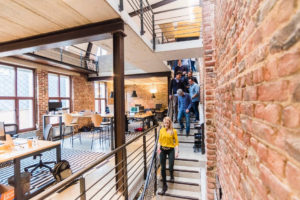 After you manage to come up with a healthy eating plan and schedule a regular reminder to stand, you should now add small exercise to your routine. I mentioned earlier in the beginning that standing alone was not sufficient to make you lose weight. However, it would make you feel easier to move your entire body.
I personally incorporate my standing routine with a short walk and I know that I am fortunate to be able to do that at my workplace. When it is time for me to stand, I walk around my office floor for a few minutes and then come back to my desk.
I admit that this might not work for everyone. You may have a desk job that only gives you two 15 minutes breaks and a 30 minutes lunch like a customer service or IT support center.
If you are in this position, I suggest that you still use your breaks to walk around. If you do not want to do it yourself, you should invite your coworker to join you. 🙂
I do not, however, recommend that you use your half an hour lunch to walk since you may not have enough time to finish your meal. Obviously if you have a longer lunch hour, you can use 15 minutes to walk before you eat.
You will feel a big difference in your body if you are able to do all the above suggestions. You will stay energized and your mind will remain fresh. 
4. Try Sit Down Exercise 
---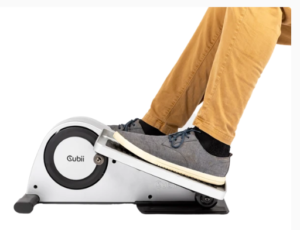 This last advice is for you who want to take it up a notch to lose weight with a standing desk. You have built a healthy routine by having a balanced diet plan, standing, and walking. Why not also use your sitting time to do a quick exercise. 
You can try this under desk bike that has garnered hundreds of raving reviews so that you can remain active even when you are sitting down. It is built with heavy duty materials and designed to be ultra-smooth and quiet during operation.
Please make sure that your desk is tall enough to fit your knees when you are using the bike.  You will also notice that there are other cheaper brands but you need to be cautious of their quality and warranty.  
Final thoughts
---
I decided to write this post after someone asked me how to lose weight with a desk job. My answer is to try a standing desk. It is a great way to start building a healthy habit that can ultimately lead to losing some weight.
However, while getting a standing desk is a great start, you will hardly lose any weight simply by standing. First and foremost, you must have a healthy eating plan as recommended by CDC. If you can follow its guideline and do some other healthy tips, such as drinking more water and refraining from unhealthy snacks, your chance of losing weight is much bigger.
Second, you need to incorporate some routine exercises with the help of your standing desk and finally, you can do a sit down exercise with the help of an under desk bike to take advantage of your sitting time.
I hope this posting has given you some practical ideas to reach your goal of losing weight with a standing desk. As always if you have any questions or feedback, please feel free to leave them in the comment box below.
To Your Health,
Rei